I've not gone into great detail about the kitchen of this house, which is simply brimming with potential.  It's gorgeous.  Really, really gorgeous.  But it's so very broken.  Here's the skinny:
The space is large, well lit and done in top to bottom knotty pine.  The ceiling is vaulted, and blessed with two small skylights.  The windows are huge and airy, and the space is well plotted with plenty of counter space and a breakfast bar.  So what's wrong with it?  Nothing works properly.  
The fridge, a stainless steel monster, is the best appliance in the room.  The only problem that thing has is that it lacks a built in freezer, the door opens the wrong way (which is irritating but by no means a disaster) and has a broken condensation line.  It presently snakes up and over the counter to drip into an empty Folders coffee can.  I wish I were joking.  But that's something we will be fixing soon enough.  
Cooking is split between a wall oven and a stovetop built into one of the counters.  The oven has not worked since we moved back in.  The stovetop is serviceable  but only has two burners.  One burner only goes on high or off.  The other, smaller burner's control knob is so badly damaged and worn that we can no longer tell with any surety just what temperature it might be set to.  Is it low?  Is it high?  Who knows, it's Adventures In Cooking!  As such, we've begun cooking our rice in the microwave because we know it won't accidentally burn due to improper heat control.  
The dishwasher has not worked for some time, and none of us can seem to figure out why.  It appears to be getting power- at least for a minute- before just blinking out of existence once again.  Who knows?  At least we can hand wash dishes in the sink!
Aah, the sink.  It will be a fairly simple process all in all, but it also needs replacing.  The faucet is broken and leaking.  The drains are worn and also leaking.  Everything under the sink is currently patched up, but it needs some serious updating and repair.  It's not shooting water everywhere, though.  At least, not until you turn it on.  Then, you'd better duck.  It's got killer aim.
The only appliance in proper working order is the chest freezer- a bulky beast taking up valuable walkway space between the kitchen and the dining room.  I don't know who decided to have a fridge without any freezer, but hey- it's cool.  We'll manage.  :p  And eventually, I'll replace the fridge   It's probably the last thing on my list of things to do, but it is on there.
This is just the appliances.  We're neglecting to go into detail about everything else- how the floors need to be resurfaced after hurricane damage a few years ago, or the crazy peeling of the dated formica counter tops.  When this kitchen was built, it was shining, new and fairly state of the art.  That broken wall oven is 23 years old!  Same with the dishwasher, the cook top and the counters- I don't mean to hate on them.  They were well loved, well used and well overdue for some updates.
For everything there is a season, and this is the season in which we replace appliances.  Starting with the cooking gear!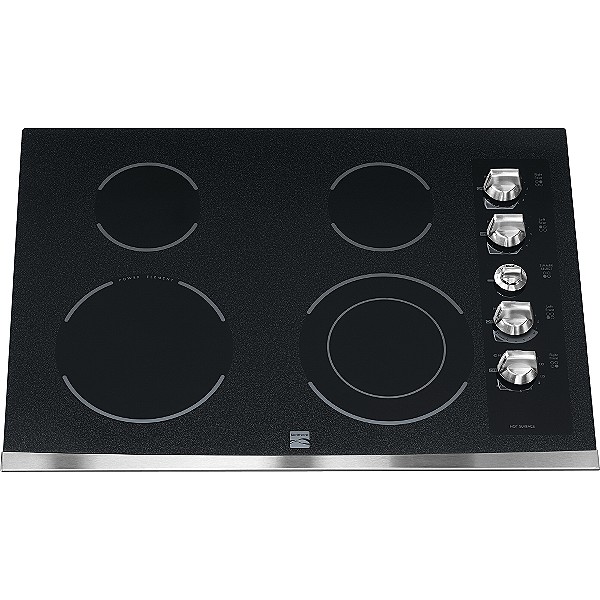 Kenmore 30″ Cooktop with Radiant Elements
First on the list is a new cooktop.  I can't wait for this baby to go in!  I love the sleek design and ceramic bits.  I grew quite fond of my old stove, with it's lack of silly heating coils and smooth, easy-to-clean surface.
Kenmore 27″ Single Wall Oven
Then it's time for a wall oven!  The stainless steel will match the current fridge, and brighten things up a bit along that wall.  3.5 cubic feet inside means my 20 pound Thanksgiving Turkey of Doom and Delight (patent pending) will fit well and cook evenly.  Huzzah!
These two were purchased together by my glorious mother as a bit of a surprise Christmas gift, and will be installed later this week.  We can't wait!  Oh, the cupcakes we shall bake!!
Kisses,
Tonks